Private / Nonprofit Organizations / Parents or Community Members
Many local businesses and organizations support SRTS by participating in events, providing snacks or beverages for walk to school days, or helping to spread the word of SRTS. See the list of Friend Organizations below to see who is already helping out in your community.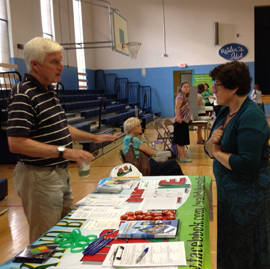 Here are some ways that you can support SRTS:
Include a statement of support and link to the Vermont SRTS program on your website
Participate in joint promotion activities
Volunteer to shovel sidewalks on walking routes during winter months
Include SRTS as an agenda topic at your conference or meeting
Serve as a team member on a school travel plan team
Provide in-kind assistance or tangible resources to the local school program (e.g. grocery store providing bananas for Walk to School Day)
Sign up with your school to be a School Champion
Government
Support schools in your town with their SRTS program. Many of you have assisted schools in your town or region with creating school travel plans, providing law enforcement staff to help with events, maintaining crosswalks or keeping pathways clear for students walking and biking to school.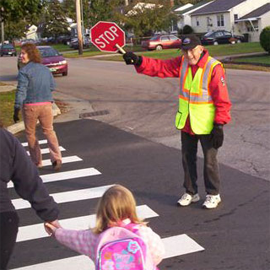 Here are some ways that you can help:
Help schools develop and update travel plans
Ensure crosswalks and school zone signs are up to date
Ask schools in your district about challenges with students walking or bicycling to school
Engage law enforcement or other municipal staff to assist with walk to school events or to patrol during arrival and dismissal periods
To learn more, reach out to the schools in your community to learn how you can support their program. 
Safe Routes to School Friend Organizations
The following organizations have supported Safe Routes to School programs or have similar or overlapping missions.
American Heart Association - Northeast Affiliate
Bennington Department of Health District Office
Bennington Police Department
Burlington Department of Health District Office
Burlington School District
Brandon Police Department
Central Vermont Regional Planning Commission
Eat Well, Play Well Vermont
Fit and Healthy Enosburg
Fit and Healthy Swanton
Franklin and Grand Isle Department of Health District Office
Go Chittenden
Governor's Highway Safety Program
Grand Isle Police Department
Lamoille County Regional Planning Commission
Middlebury Energy Committee
Mt. Ascutney Hospital
Newport Department of Health District Office
Northeastern Vermont Development Association
Northwestern Medical Center
Rutland Recreation and Parks Department
Southern Windsor County Regional Planning Commission
South Burlington Parks and Recreation
South Burlington Public Works Department
St. Albans Department of Health District Office
St. Albans Police Department
Swanton Police Department
Town of Jericho
Two Rivers-Ottauquechee Regional Commission
Windham Regional Commission